Thai Chicken Lettuce Wraps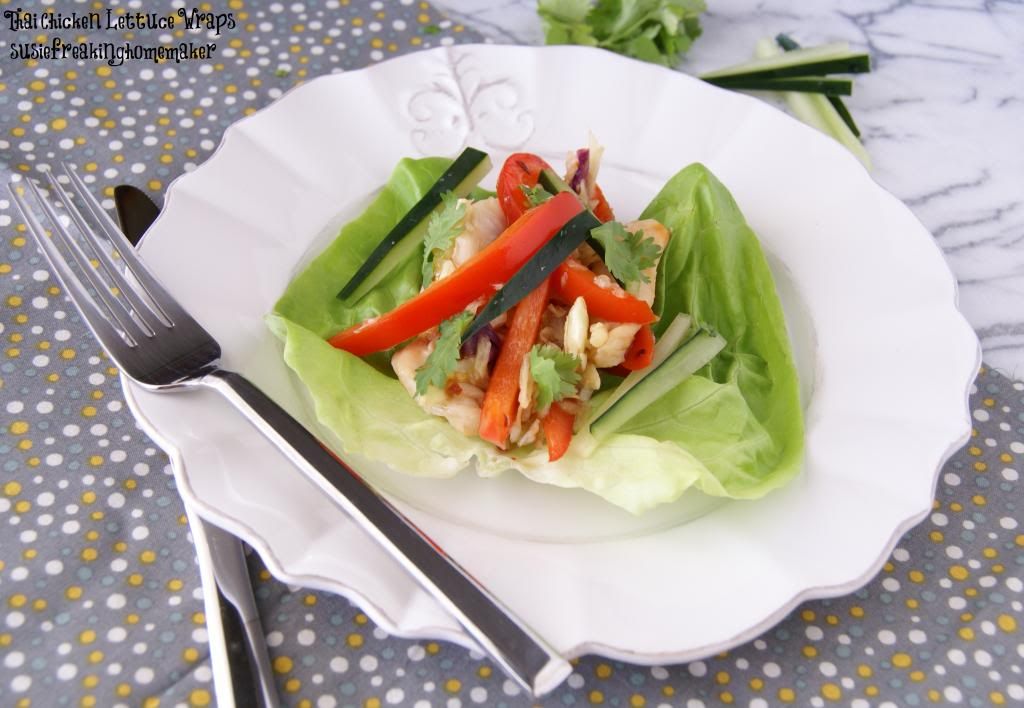 We had yet another awesome Christmas! We are so blessed that our families live so close together! We got to see everyone on both Christmas eve and Christmas day! There were poinsettia cocktails for opening presents, prime rib for dinner, and enough dog toys to make Abby feel like a queen all year round! More details later – when I'm not so tired!
I don't know about you guys, but I'm rockin' a spare tire after my Christmas holiday! So, if you're feeling the jiggle like we are, you need to try these lettuce wraps! They are easy to make, healthy and really satisfying!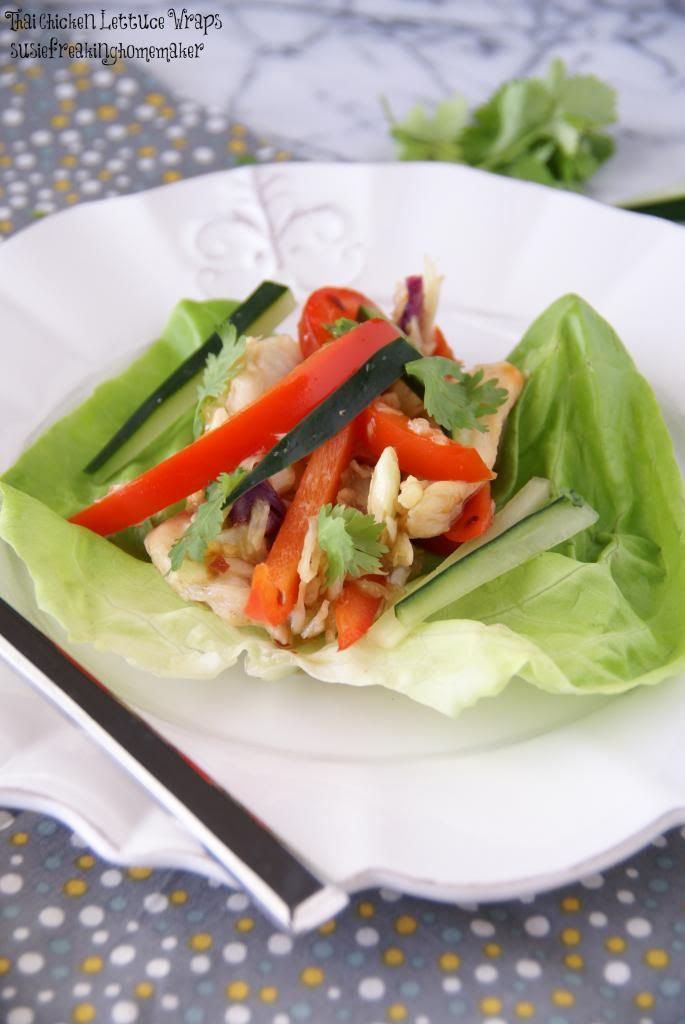 Thai Chicken Lettuce Wraps
Yield: 2-4 servings
Prep Time: 10 minutes
Cook Time: 15 minutes
Total Time: 25 minutes
Ingredients:
1 lb. boneless, skinless chicken breasts
2 tablespoons vegetable oil
2 tablespoons of your favorite grill seasoning - it's broiled steak seasoning at our house
2 tablespoons minced ginger root
3 cloves of garlic, minced
2 large red bell peppers, thinly sliced
1 package coleslaw mix
1 bunch of green onions/scallions
1/2 cup plum sauce
1 tablespoon fish sauce
1/2 Cucumber, thinly sliced
Crushed red pepper flakes, to taste
Butter leaf lettuce
Cilantro, for garnish
Directions:
Cut your chicken into strips, then heat a large skillet to medium and pour in your vegetable oil. After about 2 minutes, your oil will be hot. Place the chicken slices into the oiled pan. Cook the chicken for about 5 minutes, until there is no more pink.
Add the rest of your ingredients to your skillet (except for the lettuce!) and cook until the red peppers are soft and the coleslaw mix has cooked down.
Serve the mixture in the skillet on top of the lettuce, roll 'em and eat 'em!
Notes:
Feel free to eat as a salad - rip the lettuce and scoop the insides over the top instead.
*Adapted from Rachael Ray